I've been writing and talking about how the princess culture morphs into the diva culture as girls get older, but the transformation works both ways. Over time, the Disney Princesses not only have become more focused on cosmetics than character, but their actual faces are increasingly influenced by pop culture divas. Take Cinderella. Here is what she looked like in 1950, in the original Disney film.:
This is as a servant girl (a part of her character that has disappeared ENTIRELY, but which is the basis for her strength of character and the real reason we're supposed to root for her...)
And at the ball:
Among the interesting things to note: her hair is not that blonde and her face is sort of regular-looking.
Here she is in the post-2001 official Disney Princess era: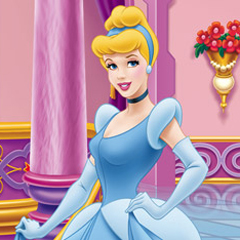 blonder, blander, coyer, flirtier, more like a parody of the princess  perhaps? Note how different Belle looks than in her movie, too. And Aurora (Sleeping Beauty). The backpack is an official Disney product--one of the 1,473 results you get when you search "Disney Princess  backpacks" on Amazon.
And now here is the 2012 Cinderella that has suddenly cropped up:
I  keep trying to figure out who she looks like. A little bit Paris Hilton. A little bit Dianna Agron, a little bit Taylor Swift? She is at once older and younger than previous versions of Cinderella. The original Cinderella seemed like an adult, this one is clearly a teenager. The Disney Princess Cinderella was more fantastical in her up-do and weird head-band thingy. She had so little subtlety in her presentation that, while she was certainly an adult, she seemed to speak only to the littlest girls. This one seems like she's about 15, which maybe dodges the whole marrying prince charming business (Disney takes a lot of heat on that idea, and they would like to side-step it).
This Cinderella's appearance is at once more accessible than the last version and equally (maybe more) unattainable--she's much more  like the images girls see as they get older. She's the  girl they're supposed to want to look like: blonde, pretty, skinny, a little bit sexy. She could be princess-by-day-pop -star-by-night: a new version of Hannah Montana. And guess what? It's still an impossible, unachievable, externally-driven ideal.
Mostly, though, I think this is part of Disney's attempt to keep the franchise going. You can only make so much off of 3-5 year olds (a mere $4 billion a year). They need to keep expanding older and  younger (hence the "baby" princess dolls and toddler princess dolls on one end and the wedding dresses on the other). This new doll seems geared to the Bratz demographic. Maybe that's why it seems a little less princess and a little more wicked stepsister.....
What do you think of the new Cindy?
"Cinderella," Sir John Everett Millais, 1881.