Even though I don't like to harp on Toddlers & Tiaras contestants (because as I always say, looking at their extreme behavior desensitizes us to the every day sexualization "regular" girls face, plus they get enough PR) I can't help but be fascinated--and concerned--by the trajectory of Eden Wood. I wrote about her and her mother, Mickie, in CAMD back when Eden was four. Now she's quit pageants and, according to People,  it's become clear as to why: she's got bigger things going on. This week 6-year-old Eden made her Fashion Week debut modeling footwear for the kids' line Cicciabella:
Ahem. You're supposed to be looking at the boots.
The evening's hostess, Kelley Bensimon  (could this GET any weirder?) said Eden was just having a "fun girly moment." Because, you know, she's wearing PINK and all. But I guess that's the kind of comment  you get when you look to   a Real Housewives cast member for insight.
According to People, the fashion crowd adores Eden. No surprise--the industry has a history of sexing-up little girls   from Brooke Shields (here at age 10--a cropped version from the infamous nude photo series by Gary Gross):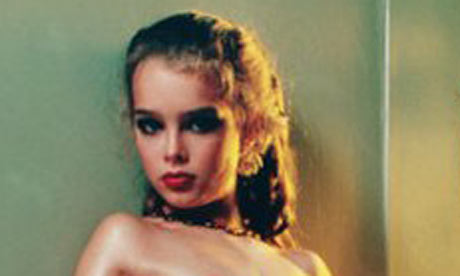 to 15-year-old Jaime King (taken by Nan Goldin backstage during a Lagerfeld show):
to that 10-year-old in French Vogue that caused all the fuss recently. It's part of the fabric of contemporary fashion to make little girls look like sexual adult women, then urge adult women to try to look like those little girls.
Heads are messed with on all sides of that equation.
And yes, I'm aware that the two photos above are taken by real-and-true artists while the Eden Wood shots were taken by, you know, whomever. That is not the point.
It's not just fashion-types who are noticing Eden. People says in addition to her  "high-end photo shoot," and being dressed by Marc Jacobs, she is going to be a guess star on the TLC series, Next Great Baker where they will make a cake in her image. According to her mom, she also has two animated films and a live action film lined up as well.
I'm starting to become kind of interested to see what happens to Eden over time. Not that I wish it on her, but if any child is set up to completely implode in a Lohan-esque way it's this one.
At the same time, if Eden (or, more pointedly, her mother) is truly successful at becoming a star through the one-two punch of  premature sexualization and self-objectification, that will, no doubt, become a strategy for others. Eventually, it could become  normalized: imitated until it is mundane, even expected not only for those pursuing show business, but for all girls, at least to a degree. That's the path we've been on, though it's been slower. We will stop seeing it as unusual. And then, to get her own shot at the limelight, the next ambitious little girl's mother will have to figure out how to top it.
Man, I'd like to know what Shirley Temple thinks of all this.