So, while we're on the topic of how the Disney Princesses--the brand that parents go to to stave off premature sexualization of their innocent girls--are changing, let's take a look at Belle. Recall that the message of "Beauty and the Beast" is that true beauty comes from within (though you could also argue it teaches that if you hang out with an abusive guy long enough he turns into a prince...). Now let's look at how Belle has changed since her debut in 1991. Here she is in the movie, just a girl and her book, singing, as one does:
Here she is, also in the movie, in her iconic yellow gown, the one that has made countless preschool girls rip the necks of their t-shirts because "princesses don't show their shoulders" (people tell me that all the time):
Now here is the BRAND NEW BELLE circa 2012 from the Disney store site, pictured on a girl's nightie: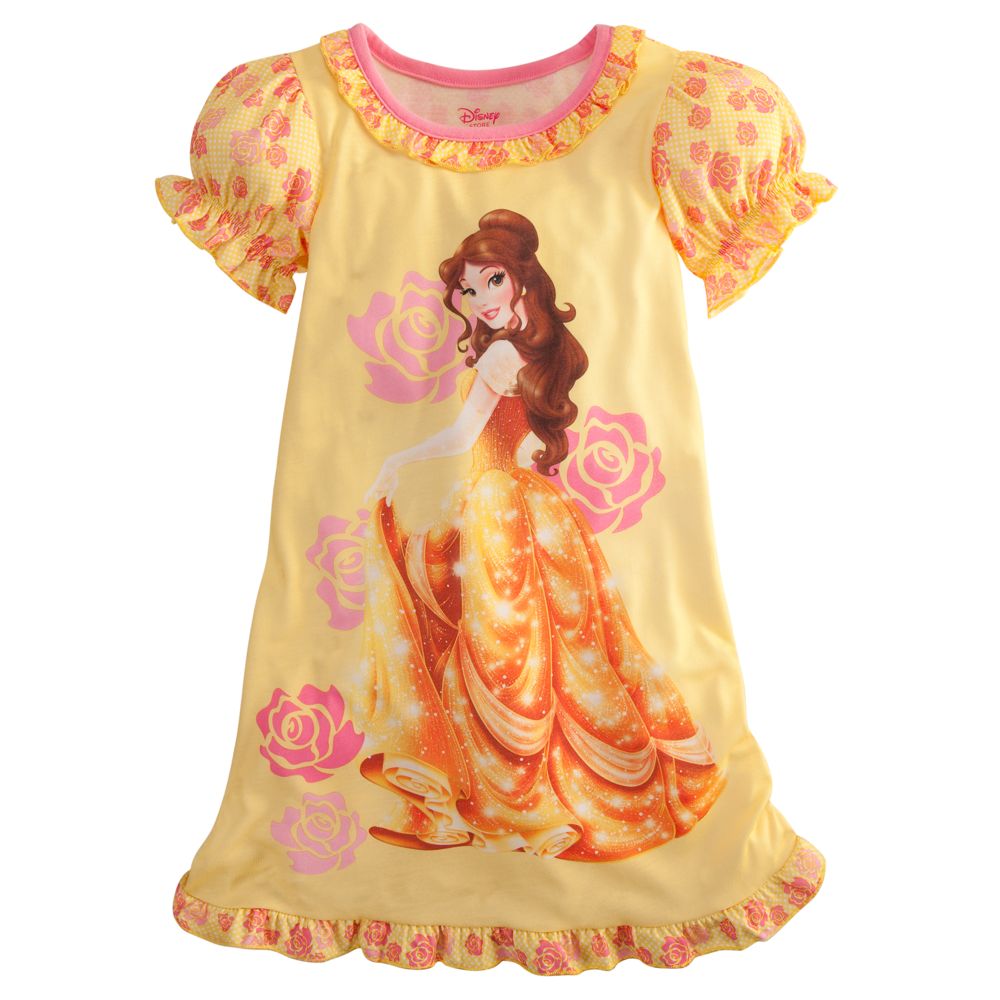 Whoa. Hotsy-totsy. Like  I want my 4-year-old wearing pajamas with THAT expression on them.
Moving on, check out Aurora (Sleeping Beauty) circa 1959:
And the new, 2012, souped-up version:
Nor is it jus t classic princesses that have been remade. Here's Rapunzel in her movie:
And Rapunzel on the Disney Store site:
Subtler remake, but big on the vapid.
So, still think Disney is the antidote to girls' early sexualization? Or is it the enabler?
As always, I don't think Disney is involve in a CONSPIRACY or anything. The company's wares reflect the changing taste of their demographic and it's the  change that's disturbing. It's also right in line with a study of published last month in the journal Sex Roles  on self-sexualization among elementary school-aged girls.  According to a report in Live Science, psychologists at Knox College in Galesburg, Illinois used paper dolls to assess self-sexualization in sixty girls ages 6-9 recruited largely from public schools. The girls were shown two dolls: one was dressed in tight, revealing "sexy" clothes and the other in a trendy but covered-up, loose outfit. Both dolls, as you can see below, were skinny and would be considered "pretty" by little girls.
Using a different set of dolls for each question, the researchers then asked each girl to choose the doll that: looked like herself, looked how she wanted to look, was the popular girl in school, was the girl she wanted to play with.
In every category, the girls most often chose the "sexy" doll.
The results were most significant in two categories: 68 percent of the girls said the doll looked how she wanted to look, and 72 percent said she was more popular than the non-sexy doll.

"It's very possible that girls wanted to look like the sexy doll because they believe sexiness leads to popularity, which comes with many social advantages," explained lead researcher Christy Starr, who was particularly surprised at how many 6- to 7-year-old girls chose the sexualized doll as their ideal self.

Other studies have found that sexiness boosts popularity among girls but not boys. "Although the desire to be popular is not uniquely female, the pressure to be sexy in order to be popular is."
Back to Disney. The new princesses reflect the changes in how girls' see themselves (and what they want mirrored in the toys they choose--not only the new princesses but Monster High, and the upcoming Bratzillaz and Novistars dolls). As the first foray into popular culture, the new royalty--which Disney is the first to call "aspirational"-- also both prime girls for  that sexualization and fuel the trend.
As always, it's up to those of us who care about girls well-being--parents, siblings, aunties, uncles, grandparents, teachers, advocates, friends, counselors etc etc--to raise the alarm about what's going on and its impact. And to fight back hard and with lots and lots of fun.